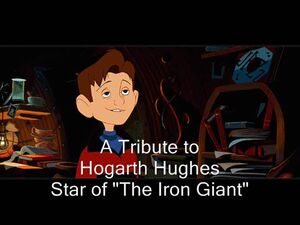 A Tribute to Hogarth is a YouTube video that was posted by Braydon Wilde, aka Wildethang93, on January 23, 2010. This video pays tribute to Hogarth Hughes from "The Iron Giant" with video clips and pictures from the movie, set to "Where The Streets Have No Name" by U2.
In March 2010, "A Tribute to Hogarth" became Wildethang93's most watched video, now at over 300 views and counting, until the Michael Jordan "Fly Like An Eagle" mix surpassed it in June, reaching nearly 450 views. In July, the Michael Jordan video was deleted, so now, "A Tribute to Hogarth" is Wildethang93's second-most-viewed video behind "The Iron Giant Epic Trailer 3," which was uploaded on May 1, 2010.
There is also a remake of "A Tribute to Hogarth" that was posted by Wildethang93 on March 22, 2010, which features a live version of U2's "Where The Streets Have No Name" that was performed at the halftime show of Super Bowl XXXVI in 2002.
Ad blocker interference detected!
Wikia is a free-to-use site that makes money from advertising. We have a modified experience for viewers using ad blockers

Wikia is not accessible if you've made further modifications. Remove the custom ad blocker rule(s) and the page will load as expected.