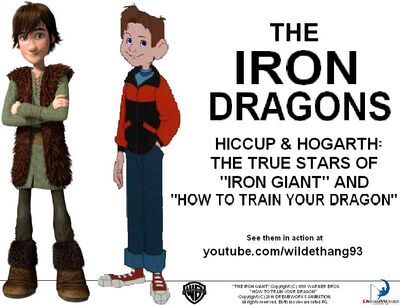 The Iron Dragons
are a series of trailers and TV spots made by Braydon Wilde, aka Wildethang93. These trailers frequently use footage from the two animated movies, "The Iron Giant" and "How to Train Your Dragon," along with its two main characters, Hiccup and Hogarth. The first Iron Dragons trailer, which is called "Iron Dragons First Class," was posted onto YouTube on February 27, 2011.
List of Iron Dragons trailers and TV spots
Edit
One-Year Anniversary
Edit
The Iron Dragons celebrate their one-year anniversary from Monday, February 27th to Wednesday, the 29th!
Monday, February 27th
Edit
All the Iron Dragons mashup videos were shown during Monday Night RAW during the commercial breaks.
Tuesday, February 28th
Edit
2K Sports and NBA 2K12 presented The Iron Dragons Basketball Game. Hogarth's Iron Giants beat Hiccup's Dragons 117-115.
Wednesday, February 29th
Edit
WWE and PCWL presented The Iron Dragons One-Year Anniversary Mega-Event, a two-hour-long extravaganza which started at 9:00 PM ET/6:00 PM PT.
Matches include:
Hiccup defeated Hogarth (Iron Dragons Extreme Rules Match)
Spider-Man defeated Chuck Norris and Lincoln Six-Echo (Triple Threat Match - New PCWL Champion)
Captain Kirk and Mr. Spock defeated Elvis Presley and Indiana Jones
Sin Cara, Rey Mysterio, and Ricky Steamboat defeated Alberto Del Rio, Christian, and David Otunga
Ad blocker interference detected!
Wikia is a free-to-use site that makes money from advertising. We have a modified experience for viewers using ad blockers

Wikia is not accessible if you've made further modifications. Remove the custom ad blocker rule(s) and the page will load as expected.